Moving to a Freemium Model
We've had our eye on moving to a freemium model, adding a new Free plan to our existing lineup of Starter, Standard, and Pro tiers. We felt Product Hunt would be the perfect launch platform for this update, given that this would be the first time that anyone could signup without a credit card and create tests using Reflect.
At its core, Reflect converts your manual test steps into an automated, repeatable test. This requires that we be able to detect and replicate a varied set of user actions as you perform them. And we must be capable of doing this for any website, regardless of JS framework. The actions we need to detect are things like:
Clicks/Taps/Swipes/Scrolling
Form Entry
Back/Refresh/Forward Navigation
Drag and Drop
File Uploads
IFrame Support
This would be the first time that our test automation technology would be available to anyone, so for us the stakes were high. All told, over 100 fixes and enhancements went into this release!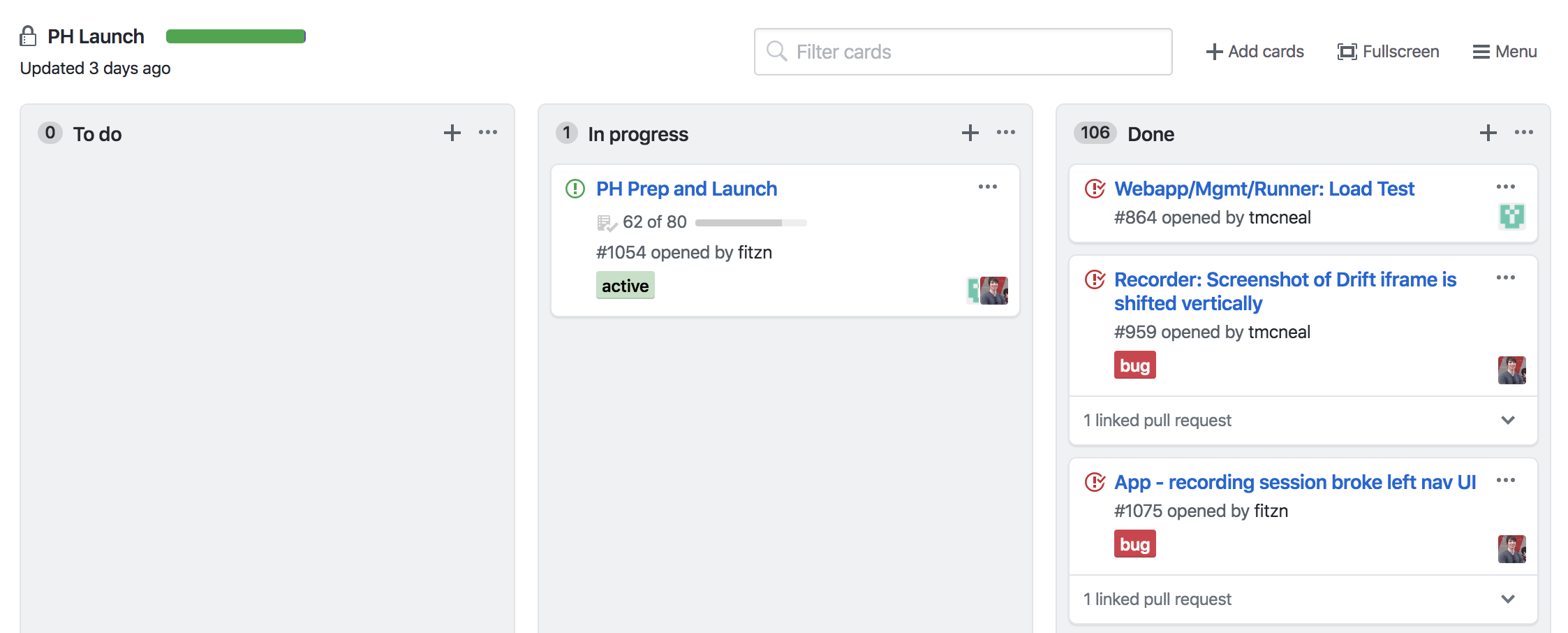 Preparing for Launch
There are many resources available for planning for a successful Product Hunt launch. There's also quite a bit of conflicting information. Rather than cover well-trod ground, I'd recommend reading the following two resources, which we found to be the most helpful when planning our own launch.
In general our experience mirrored what was covered in these articles, with a few exceptions that I'll cover at the end of this post. For example, we did choose to go the route of finding a Hunter, and were fortunate to find someone who responded to our cold outreach and was willing to post for us.
Traffic and Signups
Before we share our traffic numbers, there are a few caveats worth noting.
This data is not going to be completely accurate. We're using Google Analytics which means that anyone with an ad-blocker installed is not going to be accounted for. We've also set up our Google Analytics integration to honor the Do Not Track browser setting, so anyone with that setting enabled is also not going to be included in these numbers.
Secondly, we launched during a very unique time. In addition to being in the middle of the COVID-19 pandemic, it was also the Easter holiday weekend. We suspect both events had a not-insignificant effect on Product Hunt readership and thus our traffic numbers.
With that in mind, here's how we fared through the weekend:

On launch day our peak traffic corresponded to the hours in which we held the number two spot. As we settled into the 5th/6th position our traffic went down and plateaued for several more hours, followed by another reduction as the work-week ended.
Here's our day-over-day traffic stats from producthunt.com:
4/10/20 (Launch Day): 732 uniques, 1,525 pageviews
4/11/20: 343 uniques, 700 pageviews
4/12/20: 177 uniques, 365 pageviews
In total, 88 users signed up for a free account which represents a "conversion rate" of roughly 7%.
Takeaways
There were a few things we learned that may help you in your launch:
There's a lot written about whether it matters that a "Hunter" with a lot of followers post your product matters. The Foundr guide makes it seem like it's a make-or-break deal, whereas Product Hunt's own guide suggests that it doesn't matter at all. One point we haven't seen made is how users are notified when a Hunter posts a product. Previously followers would be emailed when this occurs, however now the notification only appears when you visit producthunt.com as a badge on top of the notification icon in the header. Our belief is that having a top Hunter is beneficial, but doesn't provide as much reach as it has in the past.
There are curated aspects of Product Hunt which you won't have control over. The Product Hunt Twitter account tweets about recent products throughout the day, but it's curated so you may or may not get tweeted there. Top products from the previous day are included the "Product Hunt Daily" newsletter (the Monday newsletter includes products from Friday through Sunday). However these products are also curated and may not match the top products as ranked on the site.
Overall we're pleased with the results of our launch but more importantly are excited to have a free tier of Reflect out in the world. Our goal is to increase software quality on the web and help software organizations squash bugs before they're shipped. To accomplish this goal, Reflect needs to be available to as many folks as possible. Releasing our free tier is one major step towards that goal.